Onlineshop Re-Launch von Tattoosafe - Greybusters International
Für die Firma Greybusters International GmbH aus Berlin hatte die detrado eine ganz besonders kniffelige Aufgabe. Tattoosafe ist einer der Europamarktführer im Bereich Tattoo Supply und für viele Produkte Exklusiv-Vertrieb.
Der Kunde wünschte sich eine Totalveränderung! Als Ausgangs ERP System verwendete der Kunde das ERP System Actindo, das nicht mehr zeitgemäß war. Als Shop-System noch eine Version von XT Commerce. Der Re-Launch und die Migration des ERP-Systems sollten an einem Zeitpunkt und nicht zeitversetzt stattfinden!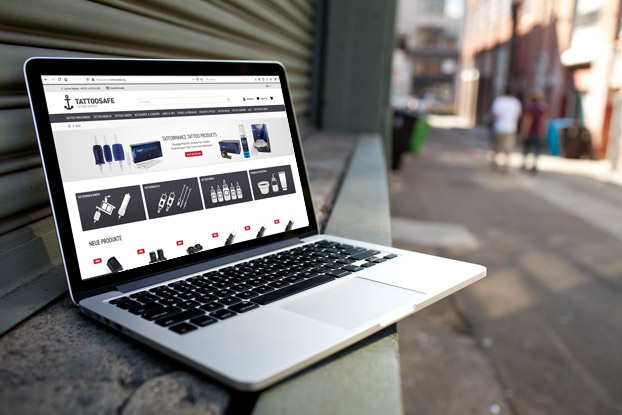 Vorbereitungszeit und Planung waren hier die wichtigsten Komponenten!
Innerhalb von ca. 3,5 Monaten wurde der neue Shopware Onlineshop auf Basis der Version 5 aufgebaut, das Design erstellt, für den weltweiten Markt parametrisiert, Versand-Dienstleister angebunden, Payment-Anbieter konfiguriert und Kundendaten migriert.
Ein Key-Feature war, dass der Shop einerseits ein b2b und b2c Shop werden sollte, aber auch ein extra dafür angelegter Vetriebsweg, der den Großhandel bedienen sollte. Der Großhandel sollte nur bestimmte Bereiche sehen & kaufen können, was mit Shopware gut umzusetzen war – wenn auch teilweise "tricky". Hinzu kam, dass der Kunde seine komplette Artikeldatenstruktur überarbeiten wollte – hier wurden durch spezielle Logiken und Automatisierungen die Artikeldaten komplett neu aufgebaut.
Die Anbindung an das ERP weclapp wurde realisiert: Etliche Zusatzfelder (ca. 100 Stck. alleine für Artikel und Filterfelder), Zusatzfeatures und unsere performanten Zusatzmodule für Shopware oder Workflow-Optimierungen kamen hier zum Einsatz. Unsere detrado Cloud für den Versand, das Qualitätsmanagement oder SEO Tools wurde im Unternehmen implementiert und die Mitarbeiter geschult.
Der Onlineshop wurde auf Basis eines TC-Innovation Templates realisiert, das perfekt für das Customizing ist. Einige für E-Commerce wichtige Module wurden integriert und so umgestaltet, dass der neue Online-Shop nur ein Erfolg werden konnte. Direkt nach dem Re-Launch stieg der Online-Umsatz um fast 25 %.
Über Greybusters International:
"Der Tattoo Supply für professionelle Tätowierer"
Tattoosafe gehört zu den weltweit führenden Händlern für hochwertiges Tattoo Equipment. Mit unseren Produkten beliefern wir Tätowierer, die ein hohes Qualitätsbewusstsein haben. Unsere Kunden wissen, dass sie ein Kunsthandwerk ausüben, das ein enormes Maß an Know-how und Verantwortung verlangt. Innovative Ideen, ein engagiertes Team und Qualitätsprodukte zeichnen Tattoosafe aus.
Da uns die Zukunft der Tattoo Branche seit jeher am Herzen liegt, engagieren wir uns außerdem ehrenamtlich im Bundesverband Tattoo e.V. und sind Mitglied in der European Society of Tattoo and Pigment Research.